Butt gripping is a pattern which is commonly seen in clients with back or pelvic related pain or issues. Diane Lee, a Canadian physiotherapist named three primary dysfunctional patterns of gripping – butt, back and chest gripping.
What is a "Butt Gripper"?
A butt gripper holds excessive tension in their posterior pelvic floor and posterior hip cuff muscles.
How to spot a butt gripper:
They can have creases in their pants along the line of the gluteal fold
Their bottoms are quite flat and tucked under
Their toes are gripped and scrunched over or their have more weight through their toes than their heels
They commonly have a sway back posture where the hips are swayed forward in relation to the rest of the body and the curve of the thoracic (mid) spine is accentuated.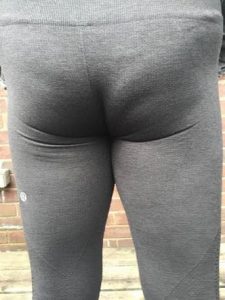 Why do people "Butt Grip"?
We find that people butt grip to provide support and stability to their system. Commonly, they would have been standing this way and relying on these muscles for support their entire lives.
The effects of butt gripping:
The femoral head can be driven forward in the hip socket which causes impingement at the front of the hip joint. This commonly leads to referred pain into the groin and hip.
Inhibition of the pelvic floor and core musculature leading to deficient inner force closure within and around the pelvis and potential strain on the gluteal tendons. This over time, can lead to trochanteric bursitis, gluteal tendinopathies, back pain and pelvic pain.
If you think you are a butt gripper or have any pain in your back, hip or pelvis, please don't hesitate to contact us (07) 5441 4764 to make an appointment with Robin, Alice or Mat.