What can I do to help her through?
The birth of your baby is an incredibly exciting, emotional and joyful time however, some Dad's or partners are left wondering… "What can I do? How can I help?"
Now days, men and partners are playing a much more active role in parenting so now is the time to roll up your sleeves, get your hands dirty and get involved!
Before the Birth:

Her feet and legs are prone to swelling particularly towards the end of the pregnancy so gentle massage in an upwards direction is beneficial for swelling and fluid retention
Her back and hips are under a lot of strain as her ligaments are stretching to allow for the baby to grow and to prepare her body naturally for the delivery so firm massage around the hips, gluts and lower back is beneficial to relieve excess muscular tension
Her mid back is under a lot of strain as her breasts are getting larger and her rib cage is flaring to allow for the baby to grow. As a result, the thoracic spine is under strain. Firm massage with the heel of your hand in an upwards direction is beneficial to relieve the excess muscular tension along the spine
Her shoulders and neck are under strain due to the curves of her spine changing as a result of the centre of mass shifting forward with the growing belly. With the centre of mass shifting forward, the entire body is put under strain. Firm kneading massage around the shoulders and up into the neck can relieve tension, reduce headaches and makes for a happier pregnant partner!
Pack a baby bug out bag: These are needed for crisis situations like earthquakes, floods and when your partner goes into labour! Things to include in you bag:

Snacks
Books, magazines and laptop or iPad
A jumper
Camera
Change of clothes / toiletries
During the Birth: Be her right hand man
Interference runner – openly discuss procedures with medical professionals prior to them happening to try to keep them aligned with your wishes
Hand holder – your partner will be going though potentially one of the most challenging things of her life – emotionally, physically, hormonally and spiritually. Here are a few great things to do to help her through the labouring phase:

Hold her hand
Massage her back
Breathe with her
Apply hot towels to her back
Gently apply inwards pressure to her hips
Offer her drinks and snacks (with medical clearance)
DON'T COMPLAIN ABOUT ANYTHING!!
Cheerleader – you are in this together so encourage her in every way you know how!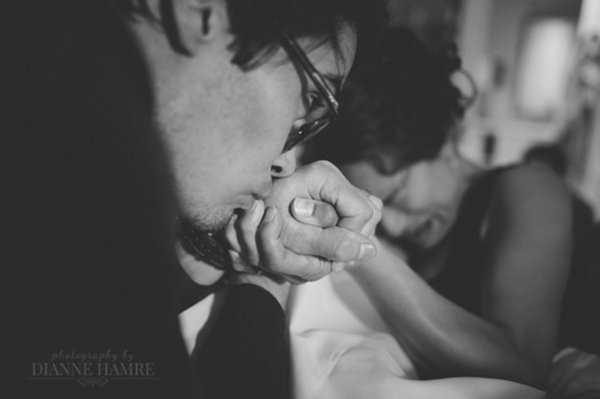 After the Birth:
Help with feeding. This can be difficult in the beginning particularly if your baby is struggling to attach. Your role is to make sure visitors aren't streaming in at all hours. Set up strict visiting hours around your feed times as to ensure that Mum and baby have the best opportunity to get it right.
Get involved with bath time. Up until this stage you and baby haven't had much time to bond. This is one of your first opportunities! Roll up your selves and get wet!
Change nappies – again this is a wonderful bonding opportunity for you and baby
Have the car seat ready to go
Write Mum a lovely note or card saying how proud you are of her and what a wonderful job she has done! The words right now are what she needs so pour your heart out and she will love you even more for it!
We offer a Dad's to Be Class with all the tips and hints on what to do before, during and after the delivery of your baby! We will show you some great massage techniques, supportive positions and baby massage in addition to bathing techniques so bring Mum along and meet some fellow Dad's and partners! If you have any questions or would like to book a spot in the class, please don't hesitate to give us a call – (07) 5441 4764.
Just had to finish with a couple of Dad and Bub photos!!