Women's Health: Active Birthing Positions
When a woman asks me "What positions are best to deliver my baby in?" I think straight to how we would have delivered back in the 'cave man' days. Now admittedly, there have been many phenomenal medical advancements since then – allowing women to deliver their babies when they may not have been able to deliver unassisted. When considering and planning for your birth, it is always imperative to remember that you are there to deliver your baby safe and sound and at the end of the day you need to concede to intervention if required. It is important that you have an open discussion with your partner and your medical team regarding what interventions you are comfortable with and your preferences for intervention if they need to occur.
The Birthing 'Tool Belt'
So to maximise your chances of an 'unassisted' birth the best thing I could tell you – have a 'tool belt' for your delivery. In this 'tool belt' you can have things like:
various supportive positions
relaxing music
stretches
massage
TENS
heat
pain relief
meditation
visualisation
dancing
chanting/humming/singing
bath etc etc.
This tool belt will give you strategies to get through your delivery more comfortably and with less chance for back pain, pelvic pain and potential perineal trauma. I'm not a massive fan of the strict and structured 'birth plan' as at the end of the day you can't 'plan' something that is completely primitive and natural. However, it is a wonderful idea to be as prepared as you can and have strategies to call on when the tough gets going!!! REMEMBER: you are there to DELIVER YOUR BABY safe and sound… so don't stress if your 'plan' gets a bit wonky along the way! You've got to let it go and trust the medical professionals and support staff around you.
Birthing Positions:
Any gravity bearing positions are advantageous as they encourage the baby's head into the birth canal and there can be less chance for perineal trauma, tail bone injury, pubic joint pain and back pain in this position. This image gives you a good idea of the effect gravity has on the position of baby in relation to your vaginal opening.
Effective active birthing positions include:
Squatting, supported squatting
All fours
Kneeling and leaning over ball, chair, partner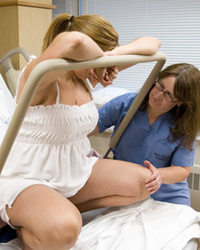 The right way and wrong way to squat
This article gives wonderful insight into the effectiveness of squatting and that some of us may be doing it all wrong! In an optimal birthing position you are wanting to maximise the opening of the pelvic outlet to effectively reduce obstruction as much as possible. This article describes how Western women typically squat with their heels turned in while Asian women tend to squat in a more symmetrical way thanks in part to their squat toilets! Learn how to maximise the opening of your pelvis by squatting the right way.
http://www.motherearthnews.com/natural-health/a-right-and-wrong-way-to-squat-in-birth-zbcz1602.aspx
For more positional advice and tips for pregnancy, delivery and postnatal recovery, please don't hesitate to contact us to book into our Antenatal Bumps Class which will be 5th April from 5:30pm. Otherwise you can book in for a one on one consultation with Alice. (07) 5441 4764.